Transportation is essential to support this smart new town, which is expected to provide housing for 800,000 people. During the initial phase, a rail and a highway can be built connecting Plover Cove New Town with Wu Kwai Sha, Ma On Shan, via a cross Tolo Channel tunnel.
Following the population growth, the rail can extend northward to Sha Tau Kok, adding an additional land crossing by train. Or, it can simply extend to the west connecting Lok Ma Chau Spur Line, to provide rail service for the new development at Queen's Hill and Fanling North New Developments Areas as well as cross-border passengers via Lok Ma Chau and Lo Wu.

To ease the burden of East Rail Line, this new north-south rail route has the potential to link up Ma On Shan with Tseung Kwan O, via Sai Kung and Hong Kong University of Science and Technology. As a result, passengers on the island side may take MTR to Mainland China via North Point, Tseung Kwan O, HKUST, Sai Kung, Ma On Shan, Plover Cove New Town, Queen's Hill, Fanling North and Sheng Shui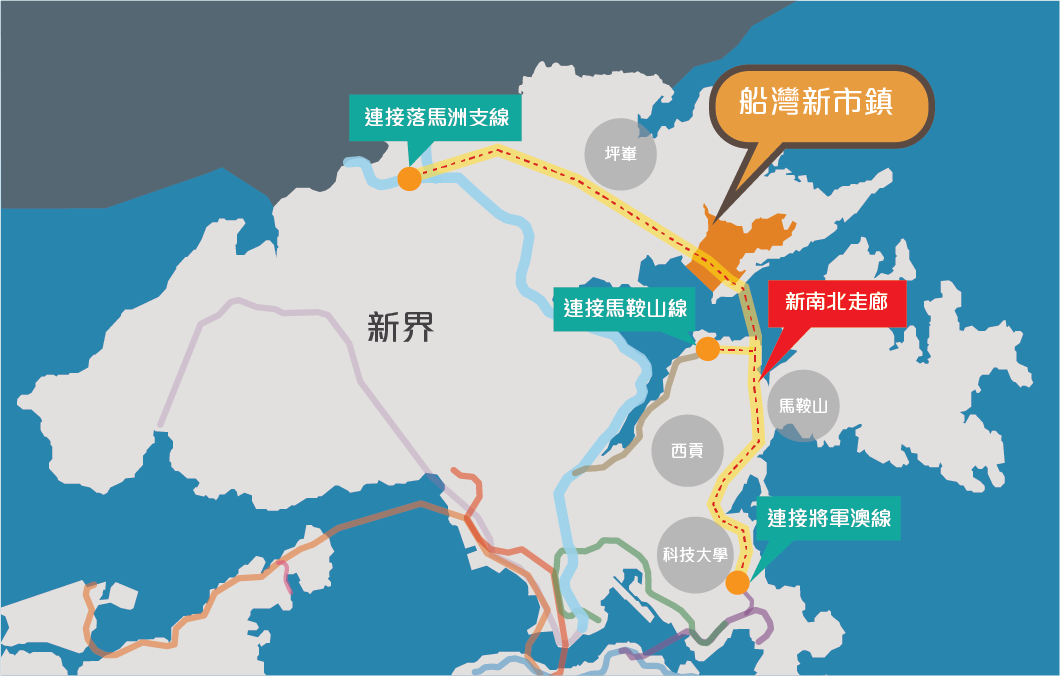 From the Plover Cove New Town, the highway can extend to the northwest via Kwai Tau Leng to Tan Chuk Hang, then link up the new highway of Liantang/Heung Yuen Wai Boundary Control Point.
Underground Traffic System
To take advantage of the 20m depth of the Plover Cove Reservoir, we can build 3 storeys of basement to house non-residential facilities such as mass transport, freight lanes, car parks, etc. As all car lanes and transport can be accommodated underground, the aboveground area will be pedestrian zone, surrounded by parks, lake and green belt. This green and eco city will greatly enhance the recreational facilities in the area.